Back
Featured Post /
5 Quick and Simple Vegan Recipes for Dinner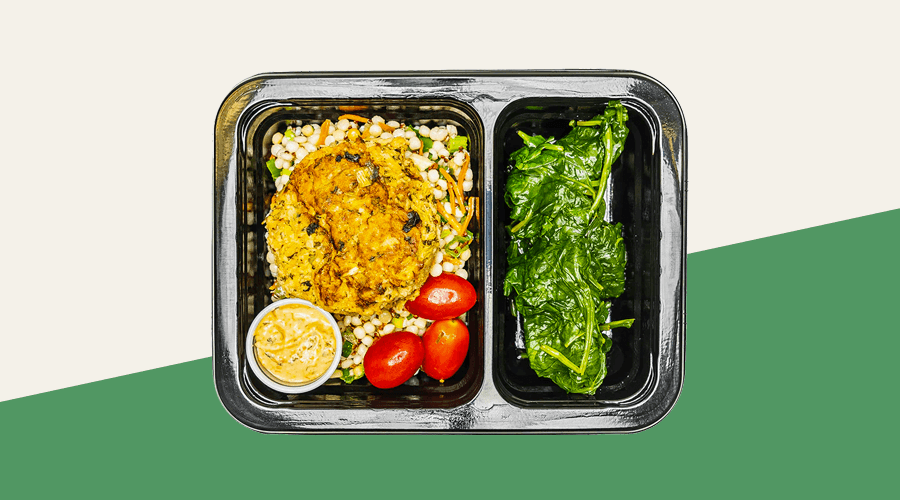 Meal Prep the Vegan Way: 5 Quick and Simple Vegan Recipes
The world is busy, and finding balance is quite the art to master. That's where meal prepping comes in.
Meal prepping involves cooking and preparing several meals at once to enjoy throughout the day or week. It has emerged as an easy way to save time and money while enjoying healthy and fulfilling meals — so it's a win all around!
If you adhere to a vegan diet or are interested in learning more about a vegan lifestyle, you know how time-consuming it can be. Luckily, there are many quick and simple vegan meals that are super tasty. Whether you're a dedicated vegan or simply looking to incorporate more plant-based meals into your routine, preparing vegan recipes in advance can save you time and ensure you have nutritious meals throughout the week.
In this post, we'll walk you through vegan basics and share some of our favorite vegan meal prep recipes.
What Does a Vegan Diet Consist Of?
Following a vegan diet means an individual does not eat any animal products, including meat, dairy, eggs and seafood. Some people abstain from consuming animal products for ethical reasons or concern for the environment, while others become vegan for health reasons.
Instead, the vegan diet largely relies on fruits, vegetables, legumes, grains, nuts and seeds. Many people can meet their nutritional needs while following a vegan diet, and there are plant-based proteins and other vegan alternatives to help out.
While embarking on a vegan diet may seem complicated, there are many fast and easy vegan meals out there, and once you crack the plant-based codes, your vegan dinner meal prep will come naturally to you. 
What Food Items Are Considered Vegan?
The vegan diet is centered around plant-based foods and excludes all animal-derived products. Here's a short list summarizing some plant-based staples of a vegan diet: 
Fruits and vegetables
Legumes
Grains
Nuts and seeds
Tofu
Tempeh
Plant-based dairy alternatives
Individuals can maintain a balanced and nutritious vegan diet when they eat these foods in the correct quantities.
How to Meal Prep With a Vegan Diet
Meal prepping can save you time and money while ensuring you have nourishing meals readily available. Here are some tips to help you master the art of vegan meal prep:
Organize:

 

Write down the vegan recipes you want to make for the week and select your favorite snacks to have in the house. 
Plan:

 

Make a list of the groceries you need for the upcoming week. The more detailed, the better. 
Schedule:

 

Ideally, you would want to prep meals on a day when you're not working. 
Keep it fresh:

 

Ensure all your containers are adequately sealed to keep your food fresh throughout the week. 
Now, let's explore more in-depth tips for meal prepping on a vegan diet. 
Gather Your Supplies
Ensure you have the tools and equipment to make the most of your vegan meal prep. Invest in microwave-safe, freezer-friendly, leak-proof food storage containers to keep your meals fresh. The following tools will also make your meal prep work easier and more efficient: 
Sharp knives
A cutting board
Measuring cups 
Pots and pans 
Baking sheets
A food scale
Choose Recipes That Are Ideal for Meal Prep 
When selecting vegan meal prep recipes, choose dishes that can be easily made in larger quantities and will retain their taste and texture when reheated. One-pot meals like soups, stews, curries and casseroles are excellent choices, as they tend to develop even more flavor over time. Also, consider recipes that can be frozen and stored for long periods. 
Plan for Your Vegan Meal Prep 
Take time to plan your meals. Consider your dietary preferences, nutritional needs and weekly schedule. Aim for a balance of nutrients by incorporating a variety of fruits, vegetables, whole grains, legumes and plant-based proteins. Create a weekly meal plan, noting ingredients you'll need and any necessary prep work. This will save you time and ensure you have a diverse range of delicious vegan dishes throughout the week.
Experiment With Vegan Substitutes 
One of the exciting aspects of vegan cooking is the opportunity to experiment with plant-based substitutes. There is a wide range of options available to replace animal-derived ingredients:
Meat substitutes:

 

Tofu, tempeh, seitan and jackfruit can mimic the texture and flavor of meat in various dishes. Experiment with different marinades and seasonings to create delicious vegan versions of your favorite meat-based meals.
Dairy alternatives:

 

Replace dairy with almond, soy, oat or coconut milk in recipes and beverages. Use plant-based yogurt, such as coconut or almond yogurt, as a substitute for traditional dairy yogurt.
Egg replacements:

 

In baking, you can use ingredients like applesauce, mashed bananas, flaxseeds or chia seeds mixed with water as an egg substitute. These alternatives help bind the ingredients together and provide moisture.
Cheese alternatives:

 

Try vegan cheeses made from nuts, such as cashews or almonds, or look for plant-based cheeses available in stores. These can be used in sandwiches, pizzas or pasta dishes.
Exploring these substitutes empowers you to create fast and healthy vegan meals while enjoying the flavors and textures you love.
4 Quick and Simple Vegan Dinners for Meal Prep
There are many vegan meal prep ideas out there that are quick, easy and healthy! Here are four of our favorite quick vegan dinner recipes. 
1. Blackened Chickn and Cajun Pasta
Indulge in the bold flavors of Cajun cuisine with this vegan chicken pasta dish. It features al dente pasta smothered in a creamy, spiced sauce and served with onions, celery, peppers, scallions and tomato. This satisfying dish can be prepared in advance and easily reheated. 
2. Black Bean Burger 
Satisfy your burger cravings with a vegan black bean burger. These burgers are a delightful alternative to traditional beef patties, packed with protein-rich black beans, aromatic spices and an added hint of smokiness. Black beans are packed with protein, so these burgers are one of the best vegan meal prep ideas. 
3. Vegan Crab Cakes 
Enjoy the taste of the sea without any animal products with these vegan crab cakes. Made from artichoke hearts, quinoa, couscous, spinach, chickpeas and a blend of savory spices, these crab cakes offer a satisfying texture and seafood-inspired flavor. These panko-breaded vegan crab cakes are crispy on the outside and fluffy and juicy on the inside. Serve them with a zesty vegan tartar sauce for a completely delightful meal. 
4. Stuffed Vegan Pasta Shells 
Indulge in classic comfort food with a vegan twist. These stuffed vegan pasta shells are filled with a delicious mixture of tofu, spinach and dairy-free cheese. Baked to perfection with a rich marinara sauce, they make a hearty and satisfying meal. You can prepare a batch of these stuffed vegan pasta shells and enjoy them throughout the week. 
Cut the Prep and Make Your Vegan Meal Prep Easy With Fresh Meal Plan
As a premium meal kit delivery company, Fresh Meal Plan prioritizes superior ingredients and the freshest flavors. 
We provide an excellent solution for those seeking ultimate convenience in vegan dinner meal prep. With our quick and simple vegan meals, you'll be well on your way to nourishing your body with flavorful plant-based ingredients in three minutes or less.
You no longer need to spend hours grocery shopping, prepping ingredients and cooking. Instead, you can focus on other priorities while enjoying wholesome, vegan meals. The convenience of Fresh Meal Plan allows you to save time, reduce stress and maintain a balanced vegan diet.
Visit Fresh Meal Plan today to explore our menu options and start your journey toward effortless vegan meal prep.