Back
Featured Post /
Meal Prep Made Easy: 5 Paleo Breakfast Meal Prep Ideas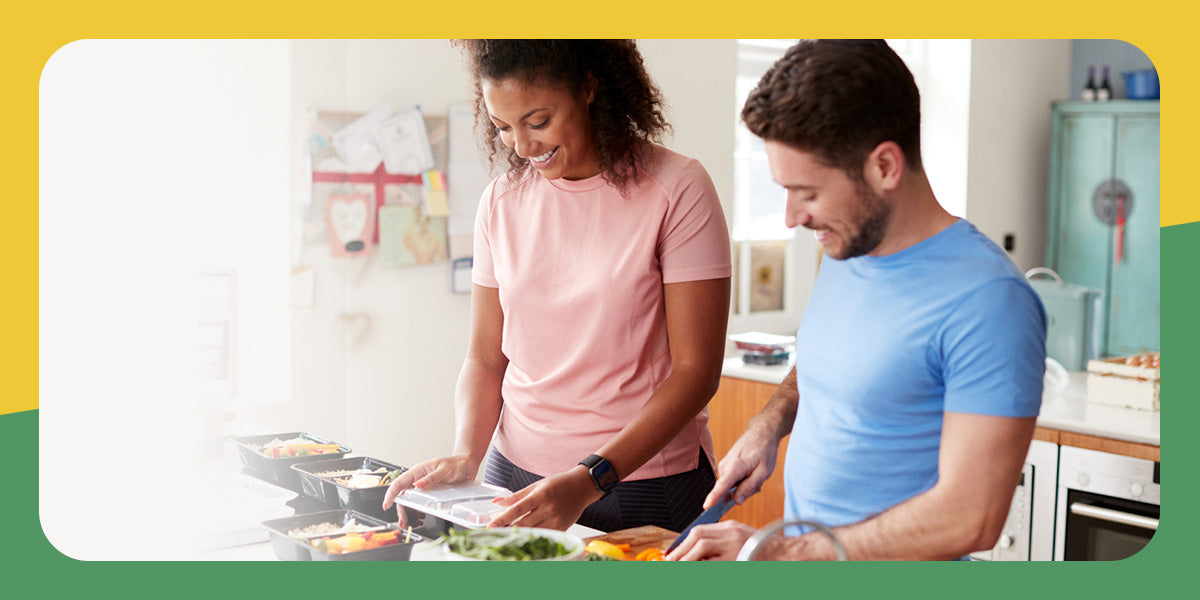 Breakfast might seem tricky if you're following the paleo diet. After all, many breakfast foods are packed with sugars and grains. But your prehistoric regimen can get you away from the cereals and pastries and help you replace them with nutritious, filling whole foods. Plus, it's meal-prep friendly!
Plenty of paleo dishes are easy to make ahead of time, and breakfast is no exception. Need some ideas? We've put together tips and recipes for paleo breakfast made easy.
What Is a Paleo Diet?
The paleo diet encourages people to eat the same foods humans ate back in the Paleolithic Era — a whopping 2.5 million years ago. This "caveman diet" means no highly processed, high-fat foods or chemical additives found in many of today's foods. It also means no gluten or dairy. With this approach, the paleo diet aims to fight lifestyle-related illnesses influenced by the modern Western diet.
Some people follow strict paleo, which eliminates grains and legumes. Others follow a modified version that includes some healthful grains and dairy products like rice and grass-fed butter. The main goal is to focus on whole foods, such as:
Meats, fish and protein, especially grass-fed, organic and free-range options.
Fruits and vegetables, especially non-starchy options.
Nuts and seeds.
Many people follow a paleo diet to reach their health goals. It lines up with many general health recommendations, like limiting unhealthy fats, increasing fruits and vegetables, and avoiding added sugars. Paleo dieters often find benefits like weight loss due to more filling, nutritious ingredients. Others notice better energy from stabilized glucose levels.
One of the biggest drawbacks of paleo is how restrictive it is. Sticking to it for a long time can be challenging. You'll also need to be aware of the food groups you cut out. For example, whole grains are good sources of fiber, so you may have digestive problems if you remove them without adding fiber somewhere else. Similarly, legumes are a common protein source for vegans and vegetarians, who might struggle to get adequate protein without them.
If it aligns with your dietary needs and you think you can stick to it, paleo is an excellent choice!
What Can You Eat for Breakfast on a Paleo Diet?
If your typical breakfast includes things like fatty bacon, sugary orange juice or gluten-filled waffles, you'll need to make some changes. Luckily, you have tons of paleo breakfast options, and you may find that your meals get more colorful and filling while following a paleo diet. Some foods in a typical paleo breakfast include:
Fruits and vegetables: You can use almost any fruit as a sweet side, and vegetables can help you add volume and nutrients to your breakfast. They make great sides, but you can also incorporate them as toppings or in mixtures, such as banana pancakes or a berry smoothie.
Eggs and meat: With eggs and meat still on the menu, a high-protein paleo breakfast is well within reach. Focus on lean meats wherever possible, like turkey and chicken. They'll help you minimize your intake of saturated fats while ensuring you get plenty of protein and iron.
Nuts and seeds: Nuts and seeds make an excellent addition to many paleo breakfasts, adding various nutrients and healthy fats. They're often packed with vitamins and minerals and contain some protein. You can eat them plain as a side, sprinkle them on some dishes, or mix them into batters and smoothies. Remember, peanuts are technically legumes, so they're off-limits, but almonds and almond butter are great substitutes.
Fish: It might not be the first breakfast food that comes to mind, but certain fish can help you get more omega-3 fatty acids in your diet, which play a key role in many bodily functions, especially heart health. Omega-3s are a type of fat that we have to get from food sources like fatty fish, and they may lower your risk for cardiovascular disease, abnormal heart rhythms, blood clots, some forms of cancer and Alzheimer's disease. 
Oils from fruits and nuts: Speaking of omega-3s, fruit and nut oils can help you get more of them, too. They tend to have less saturated fat and more monounsaturated and polyunsaturated fat — AKA the healthy fats. If you use your oil primarily for cooking, ensure it has a high enough smoke point to prevent burning. Oils with low smoke points work well for dressings or as finishing ingredients. Extra-virgin olive oil is a fantastic all-around choice, as are avocado oil and sesame oil.
For many people, a paleo diet is all about the health benefits, and these foods can help you maximize those advantages to feel your best.
How to Meal Prep for a Paleo Diet
Paleo breakfast meal prep is similar to meal prepping for any other diet. You just might need to plan for more trips to the grocery store since these fresh foods don't often keep as long as processed, shelf-stable ingredients. You'll need plenty of healthy proteins and fresh produce and potentially some less-common ingredients like grain-free flour.
Here are the most important tips for paleo meal prepping. 
1. Gather Your Supplies
Part of the appeal of meal prepping is having food ready to go — all you need to do is pull it out of the fridge and heat it up. That's why you'll need some containers. Plastic containers are often cheap and lightweight, but glass containers last longer and won't get stained as easily.
If you opt for plastic, look for products that do not use bisphenol A (BPA). They should say "BPA-free" on the label. BPA is a chemical used in some plastics that can lead to adverse health effects when it leaks into food. This risk increases when you heat up the containers.
Other supplies you'll need will vary based on the recipe. Usually, a stocked kitchen is more than enough for making healthy paleo breakfast recipes. As you dive into paleo meal prep, you might find yourself needing to swap kitchen staples for other ingredients, like swapping almond flour in for all-purpose flour or ghee in for butter. These items can be more expensive, but they're popular in paleo recipes, so you will likely use them frequently.
2. Choose Recipes You Can Make in Batches
Since we're talking about meal prep, we want recipes that can actually be prepped. Look for recipes that you can make in large quantities so you can portion them out and have breakfast for the entire week or a few days. Additionally, some foods don't reheat well. Grain-free pastas, for instance, tend to get mushy, while salad greens will get soggy if left in their dressing. Another approach to batch cooking is to make certain elements ahead of time. For example, you can prep your sauce and cook your grain-free pasta on the day.
3. Plan Ahead
Meal prepping involves frontloading your cooking time to the start of the week. Many people like to use their Sundays for meal prep, but you can choose any day if it fits your schedule. You'll need to factor in time for planning your paleo breakfast menu, grocery shopping and cleaning up.
Remember to give yourself plenty of time to prepare the recipe, especially if you're exploring new techniques like cooking with dairy-free or gluten-free ingredients. These can come with a slight learning curve and may not behave as you would expect them to.
5 Easy Paleo Breakfast Recipes Ready in 30 Minutes or Less
With your prep out of the way, we can dive into the exciting part! We've compiled some vegan and meat-centric meals to simplify paleo breakfast meal prep. These five easy paleo breakfast ideas take less than 30 minutes to make and can help you get a tasty, nutritious meal on the table without taking up your whole morning.
1. Paleo Fruit French Toast 
Did you think you couldn't have a bread-based meal on paleo? Thanks to almond flour, this paleo French toast from Sweet As Honey gives you all that cinnamon-y goodness without gluten or grains. It uses some common ingredients — like eggs, coconut milk and vanilla — to create the mixture for soaking your bread. Then, after a quick cook on the skillet, you can simply add your toppings, such as fruit and pure maple syrup. 
You'll get some protein and tons of fiber from the bread, more protein from the eggs and some healthy fats from the batter. Fruit toppings add a pop of color, nutrients and sweetness to this delightful dish. It's also meal-prep friendly and easy to divide out into containers. When you're ready to eat, you can just put it in the microwave.
2. Turkey Sausage Patties With Eggs
Turkey sausage is an excellent way to start your morning with protein. This turkey sausage patty recipe from The Spruce Eats is easy to make and eliminates the breadcrumbs and additives present in many store-bought versions. You'll just need ground turkey and some seasonings. You can even add a little spice with chili flakes or hot sauce if you want an extra kick.
To make this recipe, you'll simply combine everything together and form the mixture into patties. Cook them up in a skillet or griddle, and you're finished! If you don't want to eat them all in a few days, you can freeze them for up to three months.
Adding an egg will get you some healthy fats and more protein, and an avocado can add some carbs and even more healthy fats. This breakfast should keep you full for hours.
3. Protein Paleo Breakfast Bowls
Start your day off right with these protein-packed paleo breakfast bowls from Paleo Running Momma. These bowls have a little bit of everything, with sausage, Brussels sprouts, sweet potatoes, eggs and herbs. Plus, it's an easy sheet pan meal, so you'll have fewer dishes to do.
Making this bowl is as easy as chopping up your veggies, adding your seasoning and popping everything in the oven. You can also top it off with some eggs cooked to your preference. Scrambled or hard-boiled eggs are easy to prep, but you could also cook up a fried egg in the morning for a fresh, runny yolk.
If you want to make something fast, this is the recipe for you. It has plenty of protein, healthy fats and carbs to keep you feeling balanced and full until lunchtime.
4. Paleo Smoothie With Protein
If you want to get more greens in your paleo diet, try this green breakfast smoothie, also from Paleo Running Momma. Grapes and medjool dates add some sweetness to counteract the spinach, while frozen zucchini and unsweetened almond milk make it nice and creamy. With bright lemon juice, flaxseed meal and some collagen or plant-based protein powder, you've got a nutritious, filling and well-rounded liquid breakfast.
Paleo smoothies are perfect for on-the-go breakfasts, so consider this recipe if you need something to eat in the car. They're also a great way to mix in other ingredients you're trying to get more of. For example, you could mix in powdered supplements or chia seeds for added fiber. The best paleo breakfast is one you like and can stick to. Smoothies are highly customizable, so get creative and find what works for you.
5. Paleo Biscuits With Almond Flour
Go sweet or savory with this paleo biscuit recipe from The Spruce Eats. Almond flour once again brings us a healthy grain-free alternative, alongside basic ingredients like baking powder, salt, honey and eggs. You'll also need ghee, which is less of a kitchen staple but highly versatile. This clarified butter is made by separating butterfat from the water and milk solids in regular butter, leaving behind a concentrated flavor. You can use it instead of butter or cooking oil for many recipes.
In this biscuit recipe, ghee helps you make a crunchy and crumbly biscuit with decent amounts of protein, fiber and healthy fats. You can even add other ingredients to tailor your biscuits to the meal. The author suggests chives and sliced black olives for a savory side and cinnamon or fresh blueberries for a sweet one. It can fit nearly any breakfast preferences.
If you don't want to give up precious fridge space, you can leave these biscuits at room temperature for up to a week. You can also take your time with them by putting them in the fridge for two weeks or the freezer for up to three months.
Make Paleo Breakfast Meal Prep Even Easier With Fresh Meal Plan
One of the hardest things about paleo is the need to cook most of your meals since restaurants rarely have paleo options. If you're short on time or don't want to cook, we've got you covered. At Fresh Meal Plan, our professional chefs build large menus of prep-free foods each week with many paleo options, including breakfast items like Blueberry French Toast or Philly Steak Breakfast Bowls. We don't use artificial preservatives or ingredients, and we select paleo-friendly meats, like grass-fed beef and fresh, wild-caught seafood.
With farm-to-table ingredients and dishes ready in three minutes or less, Fresh Meal Prep can make paleo easier, helping you stick to your goals. Explore this week's menu to see some of our healthy paleo breakfasts and how we can make paleo dieting easier and tastier!