Back
Featured Post /
Paleo Meal Prep Ideas: 5 Easy Paleo Dinners for the Week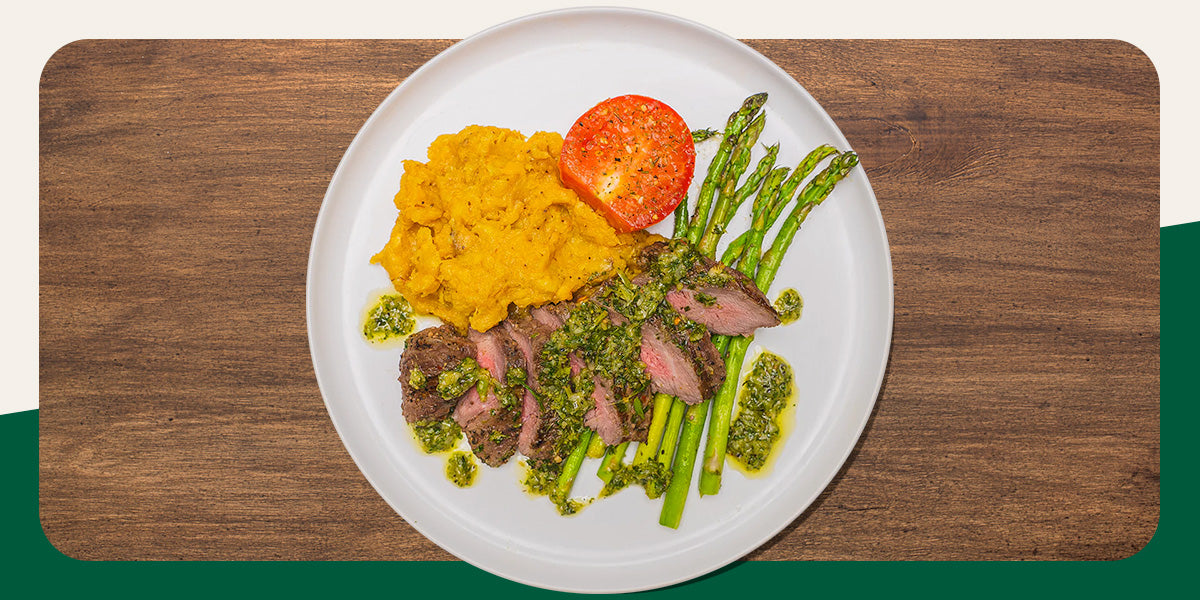 Many people are more interested than ever in eating healthy, whole foods that make them look and feel their best, and the paleo diet offers a great solution. With simple principles and many nutritious meal options, the paleo diet works well for many people. 
We're exploring the basics of this diet and some easy paleo dinner recipes to make meal prep effortless this week. 
What Is a Paleo Diet?
The paleo diet refers to a set of eating principles based on what people ate around 2.5 million years ago, during the Paleolithic Era. During this time, also known as the Old Stone Age, our ancient ancestors led active lifestyles and consumed only fresh, natural foods. They had to hunt or gather everything that they ate. 
Paleo diets do not include chemical alternatives, high-fat ingredients or processed foods. Because of these exclusions, many people believe taking this eating approach can help them maintain a healthier lifestyle and combat chronic diseases. 
People who adhere to the paleo diet consume foods that are: 
High in protein. 
Low calorie.
High in healthy oils or fats. 
Fresh and unprocessed.
Benefits of a Paleo Diet
Following a Paleolithic diet can have some awesome advantages, including the following:
Weight management: The paleo diet is largely plant-based and does not include highly processed or sugary foods. It often helps people maintain or lose weight.
Feeling fuller: Paleo foods are often rich in fiber and lean protein, making you feel full faster and for longer. You may feel more satisfied after each meal. 
Improved cholesterol: You can improve your cholesterol levels and reduce cardiovascular risks by consuming a paleo diet of healthy fats and high-fiber meals. 
Boosted energy: Refined sugars can spike your glucose levels and make your energy plummet during a sugar crash. With paleo, you can enjoy feeling more energetic throughout the day.
What Foods Are Considered Paleo?
An easy way to identify paleo-friendly foods is to assess whether they would have been around 2.5 million years ago. Here are the main categories of the paleo diet:
Fruits and vegetables: Paleo is largely plant-based. It includes apples, strawberries, blueberries, and other fresh fruit, as well as low-starch vegetables like peppers, mushrooms, and asparagus. 
Nuts and seeds: Those who eat according to Paleolithic standards can enjoy pistachios, chia seeds, pecans, sunflower seeds and almonds. However, remember that peanuts are legumes and, thus, not paleo-friendly. 
Seafood: Wild-caught fish, including salmon, trout and cod, all fit into this diet. Shellfish like shrimp, lobster or scallops also make delicious and paleo-friendly protein options. Fish like salmon are also high in omega-3 fatty acids, which are "healthy fats" that are super beneficial for your body. 
Lean meats: You can consume lean cuts of pork, beef and poultry while abiding by paleo. Some other favorable meats include game, such as quail and venison. 
Oils: Coconut, walnut, olive and flaxseed oil are some examples of healthy oils that you can enjoy while eating a paleo diet. 
Eggs: Eggs are a staple of paleo. Free-range options are ideal. 
A huge misconception about those who lived during the Paleolithic era is that they ate a largely meat-based diet. In reality, animal products made up only about 3% of their entire diets, so you can still enjoy a varied and colorful diet when you adhere to Paleo standards. 
Foods to Avoid on a Paleo Diet
When eating according to paleo standards, you'll want to avoid highly processed foods and artificial ingredients. You'll also want to skip refined sugar, dairy products, salt and sodas. These are some other common foods to avoid when adhering to paleo:
Beans
Peanuts
Potatoes
Peas
Rice 
Oats
Wheat
How to Meal Prep for a Paleo Diet
Perhaps the most challenging aspect of following a paleo diet is how restrictive it is. You might find that some foods you enjoy are not allowed according to paleo standards, and avoiding them can be a huge adjustment. However, with the right strategies, you can make paleo work for your lifestyle. One thing you'll definitely want to try is meal prepping, or cooking your meals for the week in bulk so that all you have to do is take them out of the fridge and warm them up. Many people cook their meals in batches at the start of the week to be enjoyed for the next couple of days. 
Prepping paleo recipes helps ensure you always have a paleo meal or snack ready to go. It's also very simple since the ingredients are easy to source. Here's everything you need to prepare paleo meals for dinner this week. 
Gather What You Need
When preparing meals ahead of time, you'll need a few items to ensure a seamless process. To start, you'll definitely want some airtight containers. It's important to choose containers with secure lids — this will help keep your meals fresher for longer. A set or two of containers in various sizes and shapes should be sufficient for storing meals in your fridge until you're ready to eat. 
Ideally, you will choose containers that are safe to use in the microwave and dishwasher for even greater convenience. Glass is probably a better bet than plastic for this reason. Bento box-style containers are also helpful for keeping your foods apart while in storage. Also, consider getting smaller containers for items like dips, dressings and toppings. 
You'll also want to stock your kitchen with the necessary cooking tools, pots and pans, but if you cook regularly, you likely already have these items. If you do not enjoy cooking, subscribing to a meal kit service is an excellent way to get fresh, prepared meals delivered right to your doorstep — no need to spend an afternoon grocery shopping, cooking and cleaning every week.
Choose Recipes You Can Make in Batches
If you want a fast paleo dinner every evening, your best option is to select dishes that you can prepare in batches. This way, you'll just have to warm up the dish in the microwave every night, saving significant time and energy after a long day. Since most meals will require reheating, you'll want to pick dinners that reheat well and taste good when warmed, like soups and stir-fries. 
Also, consider how long the ingredients you're using will stay fresh, especially after storing them in the fridge or freezer. Select foods that keep their texture and taste as long as possible, keeping in mind that fresh foods might not have as long of a shelf life as standard pantry staples. 
Plan Ahead
The average weekday is busy. And if you have kids, your after-work routine might involve carpooling to after-school activities and helping with homework. By the time you get home after all the madness, you may not have the time or energy to assemble a fresh, home-cooked meal. That's why meal prepping is so popular! Instead of cooking dinner daily, you can grab a meal out of your refrigerator and pop it into the microwave. In less than five minutes, you have a delicious dinner. 
When planning paleo family meals, you can begin by creating your menu and making a list of the ingredients you'll need for each meal. Assess the items you already have in your pantry and cupboards, and make a shopping list to pick up anything you don't have enough of. Then, you can dedicate an afternoon at the start of the week to cook your meals and separate them into containers. You can save even more time and energy each week when you opt for meal kits rather than homemade dinners.
5 Weekly Paleo Dinner Recipes
If you're searching for easy paleo dinners for a week, look no further. We are breaking down five delicious and nutritious meals that align with the principles of this diet. From crispy chicken to melt-in-your-mouth burgers, there are many tasty options available. 
Explore some of the best paleo dinner recipes that you and your family are bound to love.
Crispy Paleo Chicken
Crispy fried chicken is one of the best simple paleo recipes that will surely be a hit with kids and adults alike. This particular comfort food recipe makes four servings.
Begin by pounding 2 pounds of chicken breasts until they are ¼-inch thick. Place the breasts on a parchment-topped baking sheet. In a bowl, whisk together 1 egg and ¼ cup of coconut milk. In an additional bowl, mix ⅔ cup of almond flour, ⅔ cup of tapioca flour, ½ teaspoon of garlic powder, ½ teaspoon of sea salt and 1 teaspoon of ground pepper. Dip each chicken breast into the egg mixture before dipping them into the flour mixture. Make sure the entire breast is covered in the flour coating. 
Heat ⅓ cup of ghee — or paleo-friendly clarified butter — in a large skillet, and add each coated chicken breast after the ghee has melted. Cook for about 5 minutes on both sides. Remove each breast from the skillet, and allow them to fully cool before placing them in a container for storage.
Paleo Steak and Eggs
When you want super easy paleo recipes, steak and eggs are a great go-to option. This recipe makes one serving, but you can easily triple or quadruple it. A good ratio is two eggs per serving of steak. Here's how to make a single serving: First, let one large steak stand at room temperature for about 40 minutes. Then, heat 2 tablespoons of cooking fat, like ghee, in a frying pan on a medium heat setting. Season your steak with a dash of salt and pepper before placing it into the pan. 
Cook both sides of the steak for about 3 minutes before removing it from the pan. Add another tablespoon of your cooking fat to the pan before cracking 2 free-range eggs. Add a dash of salt, pepper and paprika to the egg, and cover the pan. Let the eggs cook, and allow all parts of the meal to cool before packing them into meal prep containers. 
Tandoori Chicken Burgers
Tandoori chicken burgers are one of the best paleo recipes for a flavorful meal prep dinner. To make the chicken patties, mix the following ingredients in a large bowl, and then form the mixture into patties: 
1 pound of ground chicken
3 cloves of minced garlic
¼ cup of chopped cilantro
1 ½ tablespoons of grated red onion
1 ½ tablespoons of lemon juice
½ teaspoon of salt
½ teaspoon of pepper
1 teaspoon of cumin
1 teaspoon of coriander
1 teaspoon of paprika
1 teaspoon of turmeric
1 tablespoon of grated ginger
½ teaspoon of lemon zest
½ teaspoon of cayenne pepper
After forming your patties, grill both sides for about 5 minutes. As they cook, make a delectable ginger and parsley sauce with ¼ cup of mayonnaise, 1 teaspoon of lemon juice, ½ teaspoon of chopped mint, 1 tablespoon of chopped parsley, 1 teaspoon of chopped ginger and ¼ teaspoon of cumin. Once everything is ready, top your burger with thinly sliced onion, tomato or cucumber, and wrap the burger in large pieces of iceberg lettuce. You'll likely want to keep your sauce in a separate cup so that it doesn't make the burger too soggy in the fridge. 
Beef and Broccoli Stir-Fry
Beef and broccoli stir-fry is one of those easy and fast paleo recipes that you'll make again and again. 
To get started, place 1 pound of thinly sliced steak in a mixing bowl and season with 4 cloves of garlic (minced), 1 teaspoon of minced ginger, 1 teaspoon of salt and ¼ teaspoon of ground black pepper. Then, heat a large skillet on medium-high heat and add 1 tablespoon of avocado oil. Cook your steak for about 5 minutes on each side, and set it aside. After removing the steak from the pan, add 4 cups of broccoli florets and ⅓ cup of water to the skillet. 
At the same time, whisk together a stir-fry sauce with ¼ cup of coconut aminos, 1 ½ teaspoons of sesame oil, 1 teaspoon of red pepper flakes and ½ tablespoon of arrowroot starch. Once the broccoli is tender and the sauce is ready, add the steak back into the skillet and pour the homemade sauce over top. Give everything a stir, and cook for another minute. Let everything cool before portioning it into containers, and finally, garnish each serving with some green onion and a few sesame seeds. 
Paleo Pork Carnitas
Pork carnitas, also called Mexican pulled pork, is one of the most customizable and quick paleo recipes. To get started making your rub, mix 1 tablespoon of oregano, 1 ½ tablespoons of cumin, 1 tablespoon of chili powder, 1 teaspoon of paprika, 1 teaspoon of salt, a dash of red pepper flakes and ½ teaspoon of black pepper. 
Rinse and dry 3-4 pounds of boneless and skinless pork butt or shoulder, and rub the spice mixture on all sides of the pork. Place the pork in a slow cooker, and add 1 diced onion, 5 garlic cloves (minced) and 1 chopped and deseeded jalapeno. Pour ¼ cup of fresh orange juice and ½ cup of fresh lemon juice on top of the pork, and pour 1 cup of chicken broth into the bottom of the slow cooker. 
You can expect the pork to cook for about 9 hours on low or about 6 hours on high. Then, remove it from the slow cooker, place the pork on a baking sheet and broil it in the oven for up to 10 minutes before letting the dish cool for storage. 
Paleo Dinners Made Even Easier With Fresh Meal Plan
If you are looking for easy paleo meals on a budget, turn to Fresh Meal Plan. We have a wide selection of five-star chef-crafted meals — including paleo options — that will be delivered right to your doorstep. You can select the meals that look delicious to you and forget about the hours of prep work, cooking and cleaning each week. 
Are you ready to simplify your meal prep process with meals ready in three minutes or less? Get started with Fresh Meal Plan today!