Back
Featured Post /
Meal Prep Made Easy: 5 Easy Paleo Lunch Recipes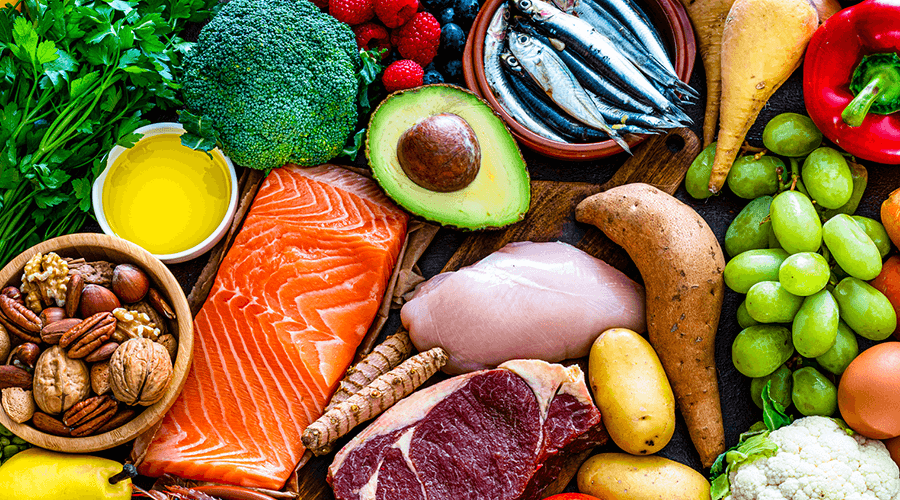 If you are interested in bulking up or losing weight with whole food options, the paleo diet might be the perfect choice to fit your lifestyle. With delicious and healthy nutrients in each bite, this diet encourages its participants to replace grains and dairy with protein from meat and vegetables. 
Unlike some diets, paleo recipes do not require much preparation due to the nutritional properties of the raw whole food ingredients that go into each meal. You can enjoy easy paleo lunches to take to work daily with five simple recipe ideas to add to your cookbook. Before getting into the individual healthy lunch ideas, take a second to learn a little more about the paleo diet below. 
What Is a Paleo Diet? 
Paleo diets supposedly resemble the eating habits of our ancient prehistoric ancestors who followed active hunter-gatherer lifestyles. The food options are typically high in healthy fats, oils and protein from lean meats and vegetables. This diet is excellent for those who exercise regularly and want to build muscle from the additional protein and low-calorie recipes.
With less sugar and processed food, you no longer have to experience the fatigue that accompanies sugar crashes and the heavy ingredients that make the days feel like they drag slower than usual. You can wake up ready to accomplish your goals for the day by feeling energized with healthier meal options. 
You can also notice health benefits from the natural ingredients that help lower blood pressure, balance cholesterol levels and maintain a healthy weight. 
What Can I Eat for Lunch on a Paleo Diet?
Since paleo diets focus on whole foods with protein, fiber and healthy fats, you can add plenty of natural ingredients to each meal to satisfy your taste buds. You can purchase these foods almost anywhere due to their high nutritious demand from consumers worldwide. 
The following ingredients count as paleo-friendly.
Fruits: Citrus and other tasty nutrients from fruits are an essential part of the paleo diet. You can enjoy a wide selection of whole fruits, including melons, apples, oranges, berries, bananas, grapes and kiwi. 
Vegetables: The protein and fiber from vegetables make them excellent ingredients for all paleo lunches. Add cauliflower, Brussels sprouts, cabbage, spinach, broccoli and sweet potatoes to your paleo recipes for additional flavor and crunch. 
Nuts and seeds: Your favorite snacks are also a great source of protein and fiber to add to meals or throughout the day. Paleo-friendly nuts and seeds include almonds, cashews, pecans, pistachios, pumpkin and sesame seeds. 
Lean meats: You can include lean meats in any paleo meal, including pork, beef, poultry, turkey, lamb and shellfish. The protein in these ingredients makes lunch energizing and delicious. 
Fish: Lean meats from fish pack plenty of protein and fiber with fewer calories than most meat options. Paleo-friendly fish include salmon, cod, herring, sardines, flounder, mahi-mahi and most other wild-caught options. 
Oils: Cooking with oil can create richer flavors in your meals. You can add coconut, almond, olive and palm oils to meat and vegetables for moister food options during your lunch. 
Read our guide to starting a paleo diet >>
How to Meal Prep for a Paleo Diet
The preparation process for paleo diets is relatively straightforward due to the easy-to-find ingredients and simple recipes. You can quickly find paleo-friendly foods at your local market or grocery store. Before starting on your new paleo recipe ideas, you will need a few kitchen essentials to make each meal's prep process go smoothly. 
What Do You Need?
When meal prep on a paleo diet, you'll need a few kitchen utensils to streamline meal prep.
You can purchase microwave- and dishwasher-safe containers to store in your refrigerators for any leftover meals. While portion control is essential for a paleo diet, it is always possible to double the recipe and save the rest for another meal.
Since paleo diets are high in protein from sources like meat, nuts and eggs, you will need a few sharp chopping knives to prep ingredients for each meal. 
Choose Healthy Paleo Lunch Recipes You Can Make in Batches
If you have children or enjoy the simplicity of less cooking when you return home from work, you most likely understand the necessity of leftovers. There are days when preparing meals seems challenging for hardworking people trying to manage their daily routines, and that's understandable. Luckily, paleo lunches make excellent leftovers. 
The following paleo-friendly foods are great for making in batches so you can have leftovers for the week ahead:
Mango-jalapeno chicken meatballs
Pork roast or pulled pork
Homemade pizza on a cauliflower crust
Hawaiian Crockpot chicken
Barbecue burgers
Chicken, meatball or potato soup
Shop Wisely
While you take the time to adapt to this diet, you will notice that foresight can prevent overindulging in portion control and overspending on ingredients you don't need. 
When you start your diet, try to only buy ingredients in the measurements you need for specific healthy paleo lunch ideas. You can decide what to make ahead of time so you can walk into the grocery store with a plan for what to purchase. 
This simple step allows you to prep the proper portion controls so you can experience faster results in muscle gain. Even if you have a few ingredients left over, that is perfectly OK! You can save these foods for another meal or create larger batches to start next week's meal options. 
5 Easy Paleo Lunch Ideas Ready in 30 Minutes or Less
A quick and delicious lunch is easily achievable on a paleo diet. For most meal options, you can enjoy tasty foods without the need to cook, fry or roast your ingredients for more than a few minutes. With this time-effective diet, you and your family can enjoy simple lunches that will leave you comfortably full until your next meal together. 
Consider how these recipes can replenish your body in only 30 minutes!
1. Thai Pork Lettuce Wraps
Lettuce wraps are a great lunch option for weight loss and increased energy levels. Adding paleo-friendly Thai pork to these greens allows you to enjoy a delicious lunch recipe in only five simple steps. 
You will need the following ingredients for this healthy paleo lunch recipe:
One pound of thinly sliced pork
Two cups of chicken stock
Three-fourths of a pound of mung bean sprouts
Half a cup of almond butter
One tablespoon of fish sauce
Two tablespoons of white wine vinegar
Four tablespoons of water
One teaspoon of sambal sauce
One lime
One tablespoon of paleo cooking fat
To start cooking your Thai pork lettuce wraps, bring the chicken stock to a boil in a skillet on medium-high heat. Put the pork into the skillet and cook for about five minutes. 
After removing the pork slices, you can save the chicken stock in the fridge for another recipe. Set aside the meat to cool. 
In the same skillet, add the bean sprouts for three to four minutes. Set these aside when they soften. 
Combine the fish sauce, water, sambal sauce, almond butter and white wine vinegar into a separate bowl. You can season the ingredients with as much salt and pepper as you desire. 
For the final step, place the almond butter mix, bean sprouts and pork into the chopped lettuce leaves with lime juice and enjoy your delicious creation!
2. Basil-Avocado Chicken Salad
This paleo lunch recipe is one of the simplest to add to your diet. With a mixture of creamy and crunchy textures, you can dive into a delicious lightweight meal option that leaves you satisfied until dinner. You can cook this tasty dinner idea in less than 30 minutes to serve the whole family. 
Gather the following ingredients for this three-step recipe:
Two boneless chicken breasts, skinned, cooked and shredded
Half a cup of stemless basil leaves
One large avocado, diced
Two tablespoons of extra virgin olive oil
Half a teaspoon of salt
One-eighth of a teaspoon of ground black pepper
You will also need a food processor, stirring spoons, measuring cups and a mixing bowl for this recipe. 
To create your basil-avocado chicken salad, start by placing the cooked shredded chicken into a mixing bowl. 
In the food processor, combine the salt, black pepper, olive oil, basil and avocado and blend until smooth. 
Pour your new mixture into the bowl along with the chicken. You can serve the salad fresh or refrigerate it for up to 10 days. 
3. Paleo Egg Roll Bowl
For a delicious lunch idea with lower sodium and carbs, you can try out a paleo egg roll bowl for your next meal. With only a few steps of preparation and cooking, your whole family will love the rich flavors of vegetables, pork and oils during lunch. 
If you want a tasty recipe with only four simple steps, the paleo egg roll bowl is the perfect lunch option for everyone in your household. 
Two tablespoons of coconut oil
Two tablespoons of sesame oil
One large sliced cabbage
One large sliced onion
Three to four chopped carrots
One piece of ginger, grated
Three cloves of garlic, diced
One-fourth cup of coconut aminos
One and a half pounds of ground pork or chicken
The first step in this recipe is to add the coconut and sesame oils into a skillet over medium heat. 
Stir the cabbage, carrots and onion into the skillet for 15 minutes until crispy. Add the coconut aminos, garlic and ginger for an additional five minutes.
Finally, add the ground pork and shred it in the pan with a fork or spatula for 10 more minutes or until the meat has fully cooked. You can serve the ingredients with sweet and sour sauce for extra flavor. 
4. Paleo Turkey Burgers
Grilling is an exciting way to enjoy the outdoors and savor delicious meat options that benefit your health. This two-step recipe is perfect for barbecuing with friends and family or having a leisurely lunch option for work. 
You will need the following ingredients for this recipe:
One pound of ground turkey
One teaspoon of onion powder
One teaspoon of paprika
Half a teaspoon of salt
Half a teaspoon of freshly ground pepper
Half a teaspoon of cilantro
A pinch of cayenne
Two chopped green onions
One sliced tomato
One sliced avocado
Two cups of fresh spinach
In a large mixing bowl, stir the ground turkey, paprika, pepper, salt, cayenne, green onions, onion powder and cilantro. Form the combined ingredients into burger patties. 
Grill the patties on each side for about five to six minutes until cooked thoroughly. For more texture, serve with tomato, avocado and spinach. 
5. Paleo Steak Protein Bowls
A mouthwatering steak is perfect for energizing your body as you sit down for lunch. Sitting in the office or working on your feet in the morning can tire your muscles without the proper nutrients. Luckily, a paleo steak bowl is an excellent solution to fatigue so you can tackle all your goals for the day. 
Paleo protein bowls are a quick and easy recipe for a healthy lunch idea that packs high nutrition levels in a few bites.
For this recipe, you will need the following ingredients: 
One small sweet potato
One four-ounce sirloin steak
One cup of cauliflower rice
Half an avocado
One radish
One-fourth of a cucumber, sliced
A handful of baby spinach
One tablespoon of avocado oil
Three-fourths of a teaspoon of salt
One cup of olives
One teaspoon of lime juice
Start by placing parchment paper on a baking sheet and preheating your oven to 425 degrees Fahrenheit. Dice the sweet potato into fries or cubes and place on the baking sheet. Sprinkle with a quarter teaspoon of salt and a teaspoon of avocado oil. Roast the sweet potato slices in the oven for about 30 minutes. 
In a separate pan, heat a teaspoon of oil. Spread the rest of the avocado oil on the steak, along with salt and any other seasonings you enjoy. 
Place the steak into the oiled skillet and cook it for about five minutes per side, longer if you prefer well-done meat. Put on a plate and wrap in aluminum foil. 
In the same skillet, place the cauliflower rice where the steak had been to absorb the oil. Cook for about five minutes until brown and slightly crispy. 
Finally, put the chopped vegetables, steak and rice in a bowl and enjoy!
Make Paleo Lunch Meal Prep Even Easier With Fresh Meal Plan
For delicious paleo lunch recipes delivered right to your door, Fresh Meal Plan's got you covered! With paleo-friendly foods in your fridge daily, you will never have to spend more than three minutes cooking your lunches. Start each day on the right foot with mouthwatering flavors that do not require prep work. 
With dozens of delicious paleo menu options to choose from, you can try different lunch options, so you can find your new favorite foods. Choose from six, 10 or 14 meals a week to fit your work and home schedule. 
Check out our meal plan options today to start your healthy paleo diet lifestyle.