Back
Featured Post /
Healthy Meal Prep for the Office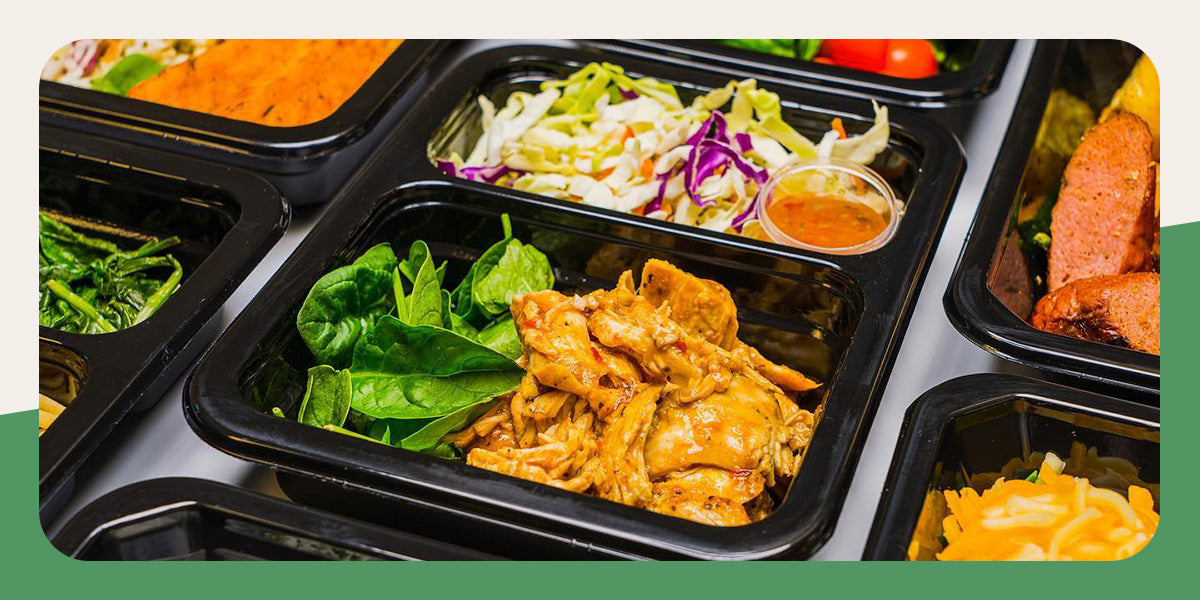 You have a busy schedule, and fitting fresh, healthy meals into your day can be a struggle when you are short on time. Meal prepping is a convenient option that helps individuals eat better, save time and spend less. 
Batching your cooking or ordering from a meal delivery service can streamline your breakfast, lunch and snacks throughout the workweek. We are breaking down a few ideas for easy meal prep lunches and other meals that will simplify your schedule and help you eat healthier. 
How Does Meal Prepping Work?
Meal prep involves preparing dishes in advance to eat in the upcoming days. They are typically reheated in a microwave and ready for consumption. The entire process is comprised of just a few simple stages. 
First, you'll determine the recipes you're interested in eating for lunch at the office during the week. If using a meal delivery service, all you have to do is select meals on the menu that look good to you. 
When preparing meals yourself, you'll need to make a grocery list of necessary ingredients. Take a look around your pantry first to see if you already have any of the items. Then, compile a shopping list, keeping portion sizes and the number of servings in mind. Head to the grocery store or farmers market and pick up your meal prep items. 
Now, you'll need to set aside an hour or two one day per week for cooking, assembling and packing your weekly meals. Place those requiring refrigeration in airtight containers before putting them in your fridge. 
During the workweek, you can quickly and effortlessly pack your bag with your prepared meals to enjoy during break time. 
Benefits of Meal Prep for Busy Professionals
Explore the ways meal prepping can benefit busy office workers.
Save Valuable Time
Meal prepping is an effective way to save time. Instead of cooking and cleaning up each day, you can dedicate an hour or two each week to food prep. 
When you're rushing in the morning, you can reach into the fridge and be on your way. No more figuring out what to eat for lunch, where to pick it up from, how much it's going to cost you or how long it'll take to get it. Plus, you won't be crunched for time when you can reheat your meal in minutes. 
Make More Nutritional Choices
Another advantage of meal prepping is making healthier food choices. By planning in advance, you can be more intentional about cooking balanced meals and choosing nutritious ingredients. 
Meal prep allows you to enjoy delicious, fresh foods during your lunch break. Forget about grabbing lunch at a fast food joint or from the office vending machine. You'll have more control and insight into the foods you are putting into your body. 
Improve Portion Sizes
A huge benefit of meal prepping is being able to improve portion control. You can find special meal prep containers designed to help you portion proper amounts of each food group. 
Planning your meals ahead of time also allows you to reduce food waste. When you know the portion sizes you need, you can forgo the guesswork. When you purchase the right ingredient quantities or number of meals from a delivery service, you'll end up tossing less. 
Enjoy Greater Convenience
Meal prep is quicker and easier than cooking multiple times a week, and it also makes eating more convenient. All you have to do is mix up or microwave your meal, and you can have breakfast or lunch in just minutes. 
Being able to grab on-the-go, portable lunches when you're headed out the door makes life easy. You won't have to think twice about what and when you're eating. 
Save Money
A huge advantage of meal prepping is saving money. When you have your meals planned out ahead of time, you won't have to spend on eating out or grabbing a snack. 
You will know exactly how much you've spent on food for the week. You can also avoid spending money by not over-buying grocery items that go bad before you get a chance to enjoy them, or that wind up as abandoned leftovers in your fridge. 
Meal Prep Tips for Busy People
Whether you're packing a lunch bag for the office or making work-from-home meals, a few tips and tricks will streamline your food prep process:
1. Start With Snacks or Small Meals
As you begin your meal prep journey, it can be highly beneficial to start with smaller meals or snacks. Take time to practice getting organized for the week. As you experiment with things like portion sizes and how long key ingredients stay fresh, you'll be able to manage your meal prep better and anticipate the right amount of each food item, which saves money and reduces waste.
2. Allow Food to Cool Down Before Refrigeration
Many beginners make the mistake of not allowing their cooked food to cool before packing it up. As you become more familiar with how to pack lunches for the office to optimize freshness, you'll learn that waiting for the meal to cool prior to putting it away will preserve its texture and taste. 
If you ever use storage bags to store your meals, another pro tip is to squeeze as much air out as possible before sealing it. 
3. Count Your Containers and Make Space in Your Refrigerator
Before cooking or making any food, it is crucial to make sure you have enough airtight containers or storage baggies for your prep. You don't want to get to the end of preparations and realize you have nowhere to store your delicious meals. Microwavable containers are ideal if you want to eat on the go.
You'll also need to make sure you have enough free space in your refrigerator to store everything that needs chilling.
4. Check Your Refrigerator Temperature Settings
The temperature in your refrigerator and freezer will impact the quality of your meals. You do not want ice crystals to form or items that should be frozen to thaw prematurely. Improper storage temperatures can cause bacterial growth and spoil your meals. 
Be sure to double-check your fridge's settings. According to Consumer Reports, your refrigerator should be set to 37 degrees Fahrenheit, and your freezer should be at zero degrees Fahrenheit. 
5. Prep on Sundays
Whether you're doing office or WFH meal prep, it can be helpful to set aside a few hours each Sunday. That way, you do not have to worry about working a full shift, running to the grocery store and cooking in bulk all in the same day. 
Some people make meal prep a weekend ritual to save time during the week. And by choosing Sundays rather than Saturdays, you can get one more day of freshness for your workday meals. 
6. Stock up on Key Meal Prep Ingredients
As you get the hang of meal prepping, it can be useful to keep some key ingredients stocked in your pantry. Items that have long expiration dates and stay fresh when prepared in advance are best. 
The following are some key ingredients to keep on hand for various meal prep recipes:
Brown rice
Whole wheat pasta
Oats
Quinoa
Beans
Lentils
Canned vegetables
Olive oil
Nut butter
7. Keep Track of Your Favorite Meals 
Another useful tip for busy meal prep beginners is to keep track of which recipes you like and dislike. Pay attention to how well the ingredients stay fresh and if there are any tweaks you'd like to make for next time. 
If you use a meal delivery service, keep a list of your favorite menu items and which ones you'd like to try in the future. 
Healthy Meal Prep Ideas for the Office
Check out the following delicious and nourishing meal ideas for the office:
Breakfasts
When planning your breakfast for the week, consider your dietary goals, like if you're looking for protein-packed or low-carb options. You can play around with different ingredients to meet your specific needs.
A go-to meal prep option for the morning is a burrito bowl because it is easy, fast and filling. You can find a breakfast burrito bowl recipe or customize a regular burrito bowl recipe. If you prefer a sweeter meal first thing, you can make mason jar overnight oats with natural sweeteners like honey, maple syrup or agave. 
Lunches
You'll want meal prep lunch recipes that make you feel full, energized and ready to take on the rest of your day. 
Italian chicken bowls are simple, tasty workweek lunches that take less than an hour to make. They are high in protein, and you will get a large serving of veggies. Another scrumptious lunch idea is Mediterranean chickpea salad. This colorful recipe is simple yet delicious. Just remember not to store it with the dressing added. 
Snacks
Don't overlook the need for a nutritious and yummy snack during the workday. The following are some easy meal prep snack ideas that you can enjoy throughout your shift:
Trail mix 
Vanilla chia pudding
Raw bars
Popcorn
Granola bars
Energy balls
Work Meal Prep FAQ
Part of meal prepping is trial and error. You'll experiment with different recipes and cooking methods until you find a system that works for you. By exploring some frequently asked questions and answers about meal prepping, you can avoid some common mistakes and create a meal plan that you love. The following are six important questions about meal prep for work:
What Foods Should You Avoid Using While Meal Prepping?
Not all food items are well-suited for meal prep purposes. In fact, many ingredients will lose their taste, and their texture will deteriorate if they are kept in the refrigerator for too long. 
You'll generally want to avoid food that is too juicy or watery, such as soft fruit or salad dressing. Crispy foods such as fried chicken or crackers are also not great for meal prep as they can become soft and absorb too much moisture.
What Are the Best Foods for Meal Prep?
The best food items for meal prep can stay fresh for multiple days. Some of the best carbohydrates for meal prep purposes include:
Brown rice
Whole grain pasta
Potatoes
Quinoa
Rolled oats
If you're looking for high-protein ingredients for lunch, the following will stay good for multiple days in the refrigerator:
Chicken
Salmon
Shrimp
Ground turkey
Seeds
Tuna 
Nuts
The best fruits and vegetables for meal prep include:
Peppers
Beans
Chickpeas
Carrots
Spinach
Mushrooms
Pineapple
Blueberries
Plums
How Long Are Prepped Meals Good For?
The length of time your prepped meals will be good for will depend on the ingredients in them. However, the United States Department of Agriculture (USDA) guidelines state that cooked leftovers can be left in the refrigerator for three to four days at a time. 
Again, be sure your fridge has the proper temperature settings to slow and prevent bacterial growth and keep your meals as fresh as possible. 
What's the Best Way to Pack Meals?
When you are packing your meals away for the workweek, it is best to use airtight containers. You can find options that feature bento box-style dividers for keeping different food items separate.
Avoid packing moist and dry foods together. This can cause the dry ingredients to get mushy and lose their texture. Always keep dressings and dips in a separate container — otherwise, they will cause your vegetables to go bad more quickly. 
A huge perk of ordering prepared meals from a delivery service is having the food prepackaged to optimize freshness.
Can You Freeze Meal Prep Meals?
Some meal prep recipes can be left in the freezer, such as:
Soups
Chilli
Curries 
Stews
When you want to enjoy your meal, remember to put it in the refrigerator to thaw and not on your kitchen countertop. Letting frozen food thaw at room temperature can cause rapid bacterial growth and potentially make you sick. 
Before freezing your meal, be sure it is in a suitable container like tempered glass. 
What's the Easiest Way to Meal Prep?
The number one easiest way to meal prep is to order meals from a subscription delivery service like Fresh Meal Plan. Our meals arrive in eco-friendly packaging with fresh seal technology. 
You can choose delicious meals from our revolving menu that professional chefs have prepared, and they can last up to 10 days in the fridge. We allow you to subscribe and save or order A La Carte, depending on your unique needs. 
Discover How Fresh Meal Plan Can Supercharge Healthy Meal Prep 
If you're an on-the-go professional juggling a busy schedule and in need of easy lunch ideas for the office, turn to Fresh Meal Plan. We have hundreds of rotating chef-crafted meals that are delivered right to your doorstep — no more spending hours in the grocery store or the kitchen. We've delivered over 10 million meals so far.
Fresh Meal Plan is a convenient and hassle-free way to meal prep with healthy, nutritious options that taste delicious. We make cooking for busy people simple. All you have to do is heat and eat. 
Get started with Fresh Meal Plan today!