Back
Featured Post /
5 Easy Keto Dinner Ideas You Can Meal Prep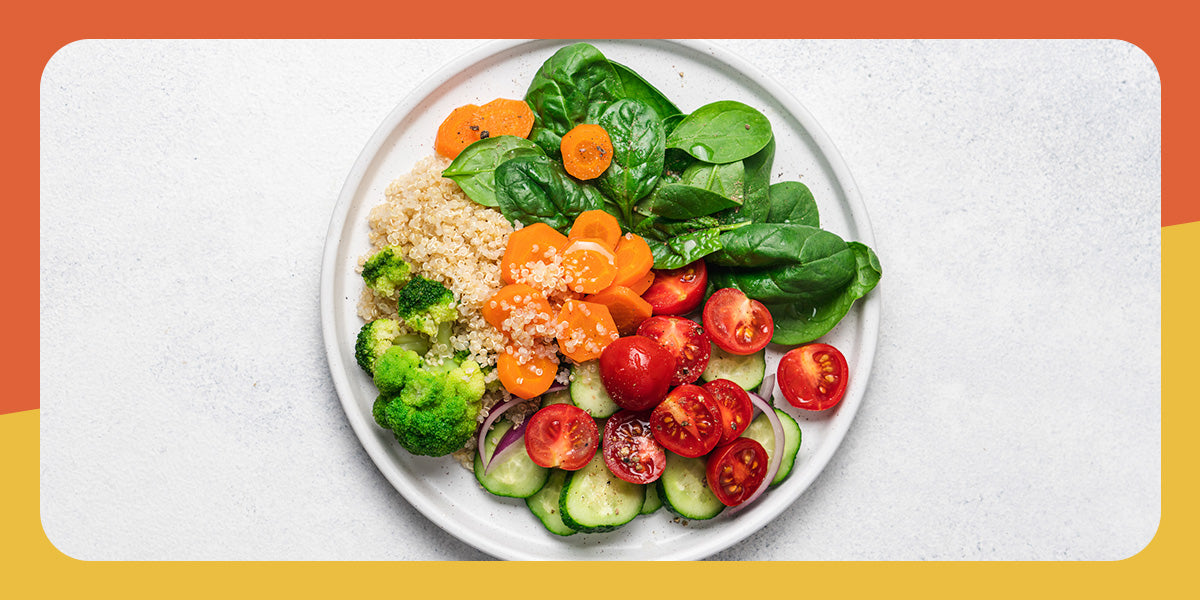 Making dinner plans on a keto diet is easier than ever. With a wide selection of ingredients, recipes and preparation techniques, you can enjoy delicious dinner options every day while maintaining a steady fat-burn lifestyle.
If you are interested in beginning a keto diet or maintaining these food options in your everyday life, you will notice how quick and easy the recipes are when creating low-carb, flavorful meals. 
Look at the tips below for following a keto diet and five easy low-carb recipes to make your dinner plans easy and mouthwatering. 
What Is a Keto Diet?
Keto diets promote high-fat and protein ingredients with low carbs for each meal. Due to the low carb count in keto diets, your body focuses on burning fat quicker and turning nutrients into energizing compounds for your muscles and joints. 
Though keto diets are relatively new to the world of weight loss and nutritious meal options, the concentration of high-fat and adequate protein levels in keto-friendly food can reduce the risk of epilepsy and obesity for individuals across the globe. 
With the unique qualities of this diet and the health benefits it offers, you can enjoy researching and experimenting with various low-carb recipes to spice up your dinner options. If you are in the early stages of creating keto dinner recipes, check out our easy keto meal prep plan for beginner tips on simple ingredients and tracking success. 
What Counts as Keto?
Numerous ingredients count as keto and taste delicious with fewer carbs and high protein. These nutritious options are easy to find at any grocery store or market. 
You can enjoy keto ingredients packed full of flavor.
Fruits: For a sweet addition to your keto meals, you can enjoy a wide selection of fruit, including bell peppers, lemons, avocados, strawberries, watermelon, tomatoes and many others. 
Vegetables: Keto-friendly vegetables such as asparagus, mushrooms, cabbage, eggplants and broccoli feature nutritious flavor in every bite.
Nuts and seeds: Packed with protein and healthy fats, nuts and seeds are incredibly keto-friendly. You can enjoy snacking on macadamia nuts, almonds, walnuts, pumpkin seeds and chia seeds. 
Lean meats: Chicken breasts and thighs, black Angus burgers, pulled pork and turkey sausage all have high protein levels, making them keto-friendly. 
Fish: You can enjoy the rich flavor of omega-3 fatty acids from salmon, mahi-mahi, mackerel, tuna, sardines and bass. 
Oil: You can add different oils to your meals, such as coconut, olive, macadamia, MCT and avocado oil.
Meal Prepping on a Keto Diet
Keto diets are relatively easy to cook and serve for dinner. However, the preparation process takes a little more time, considering each meal's portion sizes, ingredients and presentation. Starting or maintaining a diet means embracing a new healthy lifestyle where you can experiment with different ingredients and recipes. 
As you explore the ins and outs of this diet, do not be afraid to experiment with your favorite meals by substituting high-carb foods with high-fat and protein ingredients. 
If you want to try a keto diet without the timely meal prep, consider trying a keto meal delivery service.
What Kitchen Utensils Do You Need? 
To prepare your keto meals, you can gather a few tools you need to store and cook with the ingredients. 
Since keto recipes are great for storing in refrigerators as leftovers, plastic containers are perfect for any remaining portion sizes. You can select microwave- and dishwasher-safe containers. 
You can also invest in kitchen essentials that help make your meals quick and easy. You can benefit from different-sized skillets, a slow cooker, a blender and a spiralizer in your kitchen. Preparing your ingredients and creating delicious meals can become an exciting part of your day with these kitchen appliances. 
Having a scale at your disposal makes tracking portion sizes and ingredient measurements easier when maintaining a keto diet. Measuring cups and spoons can also help keep track of the amount of fat, carbs and protein your body needs daily. 
Choose Recipes You Can Make in Batches
Keto meals typically keep well for a week to 10 days. With this factor in mind, you can cook delicious keto dinners in advance and enjoy them throughout the week. 
Simple keto batch recipes are easy to follow and make several servings for you and your family. 
The best low-carb dinner recipe ideas to make in batches include:
Zucchini "pasta" or spaghetti squash
Mashed or riced cauliflower
Meatballs
Stir-fried meats and vegetables
Stuffed mushrooms or zucchini boats
5 Easy Low-Carb Keto Dinner Meal Prep Ideas
You can incorporate low-carb keto recipes into your daily eating routine that easily satisfy your taste buds. Most beginners to keto diets are surprised to learn that some of their favorite meals are already keto-friendly! You can modify the foods you love most to create delicious and healthy breakfast, lunch and dinner options. 
If you are starting a keto diet for the first time or need easy keto dinner ideas, look at the following recipes your whole family will enjoy.
1. Low-Carb Keto Lasagna
This delicious take on lasagna is perfect for cheese and meat lovers. This recipe packs a lot of flavor with significantly fewer carbs than a typical lasagna dish. 
You will need to make the filling and the noodles for this meal. 
Ingredients you will need for the cheese dough lasagna noodles include:
1 tablespoon of Italian seasoning
2 large eggs
4 ounces of full-fat cream cheese
1 1/2 cups of shredded mozzarella cheese — preferably part-skim low moisture 
For the lasagna filling, you will need the following ingredients:
1 pound of ground beef — you can choose lean meat or regular
1 more cup of shredded part-skim mozzarella cheese
1 cup of sugar-free marinara sauce
1/4 cup of minced onions
An additional teaspoon of Italian seasoning
6 tablespoons of ricotta cheese
First, make the noodles from scratch. Pour the ingredients in the correct portions into a food processor or large bowl and mix until you notice liquid consistency. Pour the batter into a 9" x 13" baking pan to create a thin layer. Bake in the oven for 20 minutes at 350 degrees Fahrenheit until the mix is dry and firm. 
After the noodles are ready, set the pan aside to cool while you prepare the filling. 
Start by adding the beef and onions to a large skillet and cook on medium heat until the meat browns. Drain the grease from the pan once the meat finishes cooking. Reduce the heat to low, then add the marinara and Italian seasoning. Mix with the beef and onions for about three minutes. 
At this point in the cooking process, return to your dough to start making the noodles. Slice the baked, cooled batter into thirds. Spread the meat sauce onto the bottom of an 8" x 4" loaf pan, and add a slice of cheese dough on top. Add another layer of meat sauce to the cheese dough and sprinkle a quarter-cup of mozzarella and three tablespoons of ricotta on the meat sauce. 
Repeat this step for each layer until you run out of ingredients. Bake the combined layers for 20 minutes at 350 degrees Fahrenheit. After the lasagna has cooled, serve and enjoy.
2. Low-Carb Keto Meatloaf
If you are a fan of keto dinners with ground beef, this low-carb meatloaf is an easy and delicious meal that only takes an hour to make. 
You will need the following ingredients for this recipe:
2 pounds of ground beef
1/2 cup of almond flour
1/2 an onion, diced
8 cloves of garlic, minced
3 ounces of tomato paste
2 large eggs
1 tablespoon of Italian seasoning
2 teaspoons of salt 
1/2 teaspoon of black pepper
1/2 cup of sugar-free ketchup, plus more for topping
2 tablespoons of Worcestershire sauce
Start by preheating your oven to 350 degrees Fahrenheit. Combine all ingredients except the ketchup and beef in a large bowl. Then, stir the ketchup and beef into the mixture. 
Shape the mixture into a loaf, place it onto a baking pan and cook for 30 minutes. Take the meatloaf out of the oven, spread more ketchup on the top and bake for an additional 25 to 40 minutes.
After the meatloaf cools off, you can slice and serve it to the whole family.
3. Low-Carb Chicken Carbonara
Chicken is an excellent basis for dozens of keto dinner ideas. The delicious taste and nutritious values fit this ingredient well with a low-carb carbonara. 
For this easy keto dinner meal prep, you will need to gather the following ingredients:
8 ounces of bacon, diced
5 ounces of chopped baby spinach
3 large eggs, beaten
2 cups of heavy cream
1 1/2 pounds of cubed chicken
1 tablespoon of avocado oil
1 cup of grated Parmesan
1/3 cup of diced onion
1 teaspoon of dried oregano
1/4 teaspoon of salt
1/4 teaspoon of fresh ground black pepper
To make your low-carb chicken carbonara, add the bacon, chicken and onions to a large skillet over medium-high heat. Cook the ingredients for seven to eight minutes or until crispy. 
Add the spinach to the skillet and cook until the leaves wilt. Mix in the heavy cream and set the stove to simmer. 
Whisk the eggs, oregano, salt, pepper and half a cup of Parmesan cheese in a separate bowl. 
Take one-third of the heavy cream from the skillet and add it to the large bowl with the other ingredients. Add the mixture back to the skillet and stir on low heat until creamy. 
Finish off the recipe with a sprinkle of Parmesan cheese on top, and enjoy your delicious creation.
4. Keto Barbecue Pulled Pork
Meal lovers enjoy the rich flavor of barbecue and pulled pork with this easy keto dinner idea. This option has flexible portion sizes, which can result in lots of leftovers. 
For this recipe, you will need the following few ingredients:
3 pounds of boneless pork shoulder
1/2 cup of chicken stock
1 1/2 cups of barbecue sauce
Salt and pepper
With a few simple ingredients, you can create a delicious and easy keto dinner for the whole family.
To start this recipe, season the pork with salt and pepper to your liking. Place in a slow cooker on low heat with the chicken stock. Cook for about six hours or until the meat is soft. 
Drain about three-fourths of the juice from the slow cooker. Let the meat absorb the other quarter of the juices while you shred the layers of the pork. 
Stir the barbecue sauce evenly throughout the meat. With those couple of easy steps, you have a tasty meal option for sandwiches, wraps or plain pulled pork.
5. Keto Coconut Chicken Thai Curry
If you enjoy keto dinners with chicken, try making this tasty coconut chicken Thai curry meal that adds a little zing to your diet. This simple recipe takes less than an hour to cook, so you can always have a quick dinner option at your disposal. 
You will need the following ingredients for this easy keto dinner recipe:
2 chopped zucchinis
1 red bell pepper
1 yellow onion
1 teaspoon of fresh ginger
2 cloves of garlic
1 bunch of green onions
1 pound of chicken breasts or thighs, if you prefer
2 tablespoons of authentic Thai red curry
1 tablespoon of coconut oil
13.5 ounces of coconut milk — you can use unsweetened, canned, full-fat or coconut cream milk
Salt and pepper to taste
Start by adding the coconut oil to a skillet over medium heat. Season the chicken breast with salt and pepper and add to the skillet. Stir until the chicken has cooked through, then move it to a plate. 
Chop the zucchini, bell pepper, green onions and yellow onion into smaller pieces, then stir-fry them in the skillet until crispy. Add the garlic and ginger and stir for about 30 seconds. 
Put the chicken breast back into the skillet to cook with the vegetables. Add the Thai curry paste and coconut milk to the rest of the ingredients for about two minutes. 
For added flavor, serve the coconut chicken Thai curry over a sweet potato or cauliflower rice. 
Easy Keto Dinner Ideas With Fresh Meal Plan
Want to make your easy meal prep for keto dinners even easier? Fresh Meal Plan is here to help! With simple, nutritious meals ready in three minutes or less, you can enjoy your evenings without additional prep work. Maintaining a keto diet with precooked meals makes your dinner plans easily manageable, so you can experience the benefits of low-carb food options while saving yourself time and effort. 
Our extensive keto-friendly menu offers tasty options that fit your dietary needs. Enjoy keto dinners with ground beef, chicken, burgers, sausage, bacon and vegetables to satisfy your taste buds. Our diverse plan options allow you to choose six, 10 or 14 meals a week. 
Create your meal plan today and have your choices delivered right to your door.