Back
Featured Post /
5 Tips to Save Money With Meal Prepping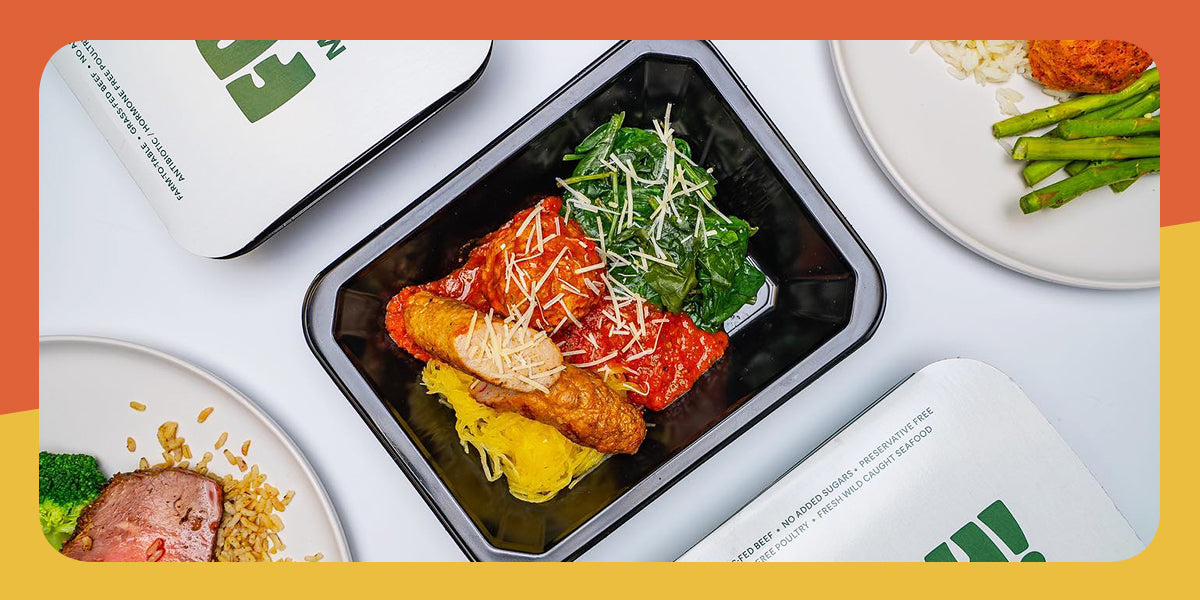 Contrary to popular belief, eating healthy doesn't need to be expensive. Proper meal planning and bargain shopping can help you meet your nutritional goals without breaking the bank. Use these helpful ideas to learn how to meal prep to save money, cut cooking time and establish a healthy routine.
Does Meal Prep Save Money?
Yes, you can absolutely save money with meal prep. It can take some trial and error to master the process, but meal prepping is one of the best ways to save cash and fit healthy habits into your busy lifestyle.
For one thing, prepping your own meals ahead of time gives you a convenient alternative to eating out when life gets busy. And it's well-known that cooking your own meals is significantly less expensive than eating at restaurants. On average, people spend about $13 per meal when they go out to eat. The average meal at home, however, only costs about $4. 
Ultimately, planning your meals ahead of time is the best meal prep idea to save you money. Coming up with a grocery list and sticking to it can help curb impulse buys and reduce waste, so you can get the most out of your groceries. 
5 Money-Saving Meal Prep Tips
Are you interested in getting started with meal prep? Here are some tips for how to save money on meals. 
1. Figure out Your Nutrition Goals
Do you want to lose weight? Gain muscle? Up your vegetable intake? Whatever you want to accomplish, focusing on your nutrition goals can help you plan your meals more effectively. 
For example, people who want to increase their protein intake should include meals containing protein-rich ingredients in their weekly plans. Following Pinterest boards and social media hashtags can help you find recipe inspiration and preparation tips for your chosen diet.
2. Plan Meals Around What's in Season
Seasonal produce is tastier and more nutritious than it is out-of-season — and it's much cheaper. Here's why:
Local: Out-of-season produce usually comes from other countries, so it needs to travel much farther to make it to your plate. Higher transportation costs result in higher prices at the grocery store.
Naturally ripe: Produce that's in season doesn't need to undergo artificial ripening, so the cost of production is lower.
Abundant: Greater supply of produce means farmers can harvest more of it, which drives down prices.
Learn the growing seasons for your favorite fruits and vegetables and plan meals accordingly.
3. Store Your Food Properly
Investing in durable reusable containers is essential in meal prep for a few reasons:
Portioning your meals in advance
Keeping food fresh until you're ready to eat
Safely transporting your meals to work or school
You can use glass, metal, silicone or plastic containers, depending on your preference. Whatever material you choose, the container should form an airtight seal to keep food fresh. 
Bento boxes are a great option for meal prepping lunches because they're super portable and easy to organize. You can store each part of your meal in a different compartment to prevent sogginess or mingling ingredients.
4. Use the Same Ingredients
One of the best tips for saving money on meals is choosing recipes that call for the same ingredients throughout the week. By repurposing ingredients for multiple meals, you can limit the number of times you need to go to the store and reduce food waste.
A rotisserie chicken is a great example of a versatile ingredient you can use up entirely. You can eat the meat as a main dish or use it in dishes like chicken salad, casseroles and soups. Then you can combine the bones with veggie scraps and boil them in water to make your own chicken stock.
5. Stick to Simple Ingredients
Social media can make healthy meal prep look like it's more complicated than it actually is. Health food influencers often post recipes that use costly ingredients that are inaccessible to most people, which can make meal prep look impractical.
But your prepped meals don't need to be fancy or expensive to be healthy. When you're planning your meals for the week, avoid recipes that call for obscure or expensive ingredients. 
You can also make ingredient swaps if you know of any cheaper foods that have similar flavors or textures. Or you can adjust the recipe to work with the ingredients you already have on hand and skip the store altogether.
Budget-Friendly Meal Prep Shopping Tips
Shopping smarts can help you save even more money on meal prep. Here are our top three tips for finding the best deals while you're grocery shopping.
1. Shop in the Evening
Grocery stores often slash prices at the end of the day for perishable foods that are nearing their expiration dates. Go to the store one to two hours before closing time for the best deals. 
The same goes for many farmers markets. While you may not get the prettiest items, you can still get good, local produce at a great price. That said, some markets have rules against end-of-day sales — ask the market owner about their policies. 
2. Compare Prices
Shop around to figure out where you can find the best deals for different items. Visit local stores as well as online sellers and compare before settling on one. Search ingredients you're looking to buy on stores' websites to see their prices and availability before you go shopping in store, as well.
If your favorite grocery store has a customer loyalty program, consider signing up. Depending on the store, you may need to pay a small one-time fee to sign up, but this investment is well worth it. Grocery stores frequently run member-exclusive sales on certain items regardless of brand, so it pays to have a card.
3. Buy Nonperishables in Bulk
Usually, buying items wholesale brings the unit price down significantly. A membership to a wholesale club store like Sam's Club, BJ's or Costco can help you save a lot on groceries in the long term. These stores also often offer members other exclusive discounts on things like gas, vacation packages and even insurance.
Here's what to buy in bulk:
Favorite spices
Dried or canned beans
Grains like rice or pasta
Cooking oils
You can also take advantage of the self-service bulk bins at your local grocery store. These bins charge by weight, so you can take as much or as little of each item as you need.
Save Money on Meals With Fresh Meal Plan
Are you looking for a budget-friendly way to save time in the kitchen? Cut the prep and save money by signing up for a Fresh Meal Plan subscription. With more than 100 recipes in our weekly rotation, our service helps you plan all your meals for the week without getting bored of eating the same thing every day. Plus, you can customize your plan so it fits your budget and lifestyle. 
Ready to get started? Click here to check out what's on the menu near you.