Back
Featured Post /
How to Eat Healthy if You Don't Like to Cook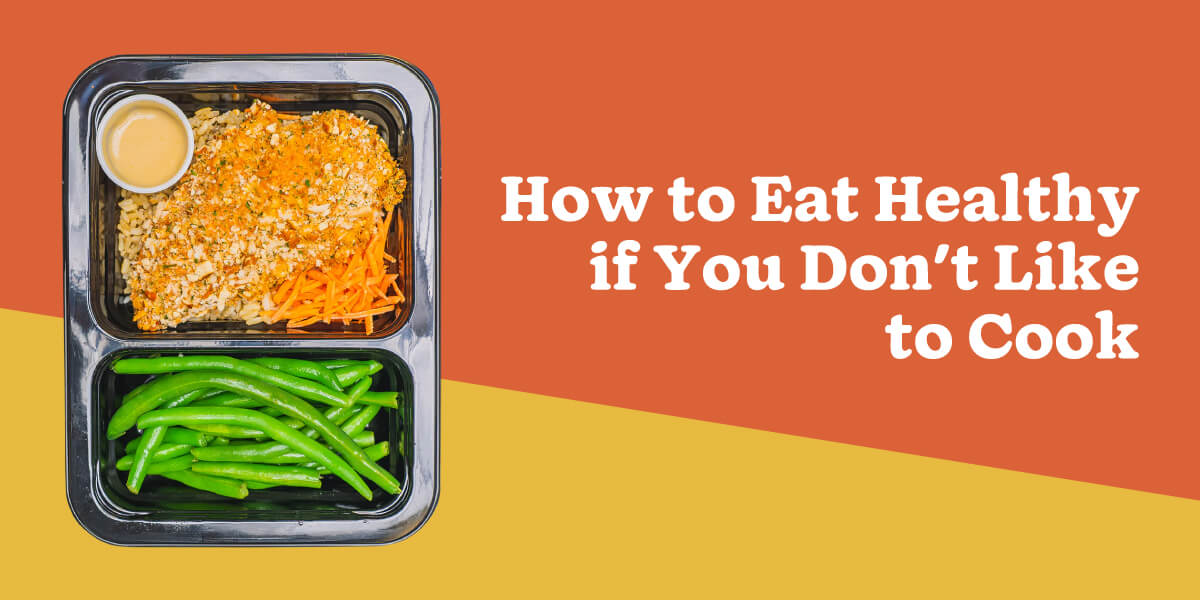 Eating a healthy diet without cooking can be challenging. But for those wondering how to eat healthy without cooking or finding themselves too lazy to cook, exploring a no-cooking diet can be beneficial. From pre-cooked grains to ready-to-go takeout meals, you can explore many healthy options. Our list of no-cook healthy meal tips allows you to save time and money while maintaining your healthy lifestyle. 
15 Tips to Eat Healthy Without Cooking
For those wondering how to eat healthy without a kitchen, consider exploring tips for healthy no-cook meals. From using grocery delivery services to having meal boxes delivered to your doorstep, there are many ways to eat well without worrying about cooking. Pre-cooked meals and easy convenience options offer healthy eating for lazy cooks who don't have the time or money to spend on meal preparation. Here are 15 options for eating healthy without cooking.
1. Get Groceries Delivered
Many people have begun using third-party delivery sources like Doordash, Postmates and Grubhub as their sole provider of food and meals. However, you can save time and money by spending your hard-earned cash on grocery delivery rather than individual meals from restaurants. Getting out of the constant delivery habit ensures you have more money for groceries that can be easily prepared and eaten.
One of the best ways to cut out the time spent on meal preparation is to get groceries delivered to your house. Many enjoy how much time they can save when they don't have to take weekly trips to the grocery store. You can easily order healthy convenience foods from your favorite grocery outlet. Many large companies like Walmart, Giant Eagle, Aldi, Costo, Wegmans, Kroger and Whole Foods have begun offering pickup or delivery services.
There are also specific grocery delivery services, such as Instacart, that allow you to order groceries. Using these services, you can tip drivers a small fee and opt for fast grocery delivery. You can also check out Imperfect Foods, which aims to fight food waste through imperfect fruit and vegetable delivery. 
Explore what might be available in your area. For those who hate grocery shopping, a delivery service might be the best fit for cutting down on meal preparation time.
2. Use Frozen and Canned Food
Frozen, canned and jarred food perfectly accompanies a large meal or makes a quick snack when you feel hungry. You can find many kinds of frozen fruits and vegetables at the store. Frozen fruit like blueberries and strawberries can be used for your morning smoothie, or they make great toppings over oatmeal, granola and yogurt. 
Frozen vegetables like peas, green beans and carrots can be defrosted in the microwave and eaten with pre-cooked grilled chicken. Frozen produce is packed with nutrients, lasts a long time and may be more affordable than fresh fruits and veggies.
Canned foods like lentils, black beans and garbanzo beans offer quick meals without the need for much cooking. You can often heat up a can of soup in the microwave or heat some canned vegetables on the stove for a few minutes. Foods selected for canning are picked at peak freshness and retain many of their nutrients, making canned foods a healthy and easy way to maintain a healthy diet without much cooking. 
You can also find jarred items to add as toppings or eat as a snack all on their own. You might buy some roasted red peppers for your salad or eat artichokes, kalamata olives or marinated mushrooms as snacks. Items like pickles, pickled red beets and sun-dried tomatoes also offer a tasty snack without the need for cooking.
3. Use a Prepared Meal Service
A prepared meal service is one of the best ways to find no-cook healthy meals while saving time and money. With a meal subscription service from Fresh Meal Plan, you can customize meals to your lifestyle, choose from hundreds of meal options, add specific snacks and manage meals from an individualized portal. Plus, every meal from Fresh Meal Plan can be prepared in three minutes or less. 
Customizable meals allow you to choose keto or pescetarian options or change meal numbers depending on your lifestyle preferences. Through Fresh Meal Plan, you can decide how often you want meals delivered to your doorstep, whether you enjoy dinners seven days or week or only need two to three meals each week.
With so many meal choices to choose from, you are sure to find something you enjoy. Consider our FRESH+ add-ons, which allow you to add healthy snacks, sides and desserts to your meal subscription. Fresh Meal Plan is proud to provide environmentally friendly packaging with containers that keep food fresh for longer and last up to 10 days in the fridge. And with our A La Carte ordering services, you can choose delicious meals weekly without a subscription. 
4. Buy Pre-Cut Fruits and Veggies
Purchasing pre-cut fruits and vegetables is another great way to reduce the time spent on buying, chopping and washing new produce. You can easily find pre-cut and washed fruits and veggies in the produce aisle at your favorite grocery store. While it might not be as eco-friendly as buying fresh produce, it can help you consistently eat healthy and cut down on time spent preparing new food. 
Pre-cut produce options might include:
Leafy greens:

 

Pre-washed lettuce, kale or spinach can be added to salads, wraps, smoothies, stir-fries or sandwiches. 
Vegetables:

 

Pre-cut vegetables come bagged and ready to eat and may include broccoli, cauliflower, carrots or snap peas.
Zoodles:

 

Pre-spiralized vegetables are a pasta alternative.
Stir-fry kits:

 

A stir-fry kit includes pre-cut and washed vegetables, which can quickly be sauteed on a pan.
Salad kits:

 

Salad kits allow you to eat

 

pre-washed lettuce or mixed greens

 

easily. 
Fruits:

 

Pre-cut fruits include pineapples, apples, melons, mangos or grapes, which can be added as toppings to meals or eaten as snacks.
5. Know Your Labels
Understanding pre-packaged labels can help you find the best healthy foods. Some pre-made items might be easy to eat but contain high amounts of sugar, fat or salt, which can be enjoyed in moderation. By learning to read labels correctly, you can tell which items are healthier options. 
You can look at nutrition labels to gauge an item's salt, fat and sugar content. Low-sodium items have less than 140 milligrams per serving, while foods low in sugar have less than 5 grams of sugar per 100 grams. Low-fat items have 3 grams or less of fat per 100 grams. 
You can also check the labels for traffic light signals and ingredient lists. Traffic light labels are often on the front of pre-packaged items and give you a quick glance at a food's nutritional value. Between red, amber and green categories, green items mean the food is healthier, while red items have higher amounts of sugar, fat or salt. Keep these labels in mind when buying pre-made foods.
Looking at the ingredient list can also help you. Ingredients listed first often occur in higher amounts, so if sugar or salt is listed first, the food item will have more of it. Be sure to look for related ingredients as well. Some companies list sugar-related products such as sucrose, syrup, fructose, glucose or molasses. 
6. Get easy, Healthy Snacks
Snacks are popular among busy workers, college students or large families who often need an energy boost in the middle of the day. While it may be tempting to buy easy foods like chips, crackers, pretzels or desserts, consider opting for healthier snacks that won't require preparation time or cooking. 
Healthy, easy snacks might include the following:
Fresh fruit
Vegetables with hummus
Unsalted nuts
Dried fruits and berries
Low-sugar yogurts
Cottage cheese
Low-sugar granola bars 
7. Eat Healthy Takeout
For those who enjoy eating at a restaurant or getting takeout, consider scoping out healthy options from your favorite spots. While it makes sense to enjoy fast food in moderation, there are many restaurants and eateries you can find where healthy meats, vegetables and fruit dishes are available. 
When you go out to eat or order takeout, consider swapping garlic bread or fries for steamed vegetables or a garden salad. Opt for sugar-free drinks or water over sodas and lemonades. 
8. Make Smoothies
Smoothies are one of the easiest meals or snacks to make. When you include fresh fruits and vegetables, nut butter, seeds, yogurt or milk in your smoothie, you can increase your intake of vitamins, proteins, minerals and healthy fats in your diet without cooking. Be sure to find sugar-free ingredients, and include some leafy greens like kale or spinach for the most nutritious smoothie.
9. Purchase Pre-Cooked Chicken
Pre-cooked chicken is an easy meal for one or two people. It can be easily added over the top of salads or eaten with pre-cooked vegetables. Consider putting the chicken in the air fryer or buying grilled chicken and eating it with whole-grain sides and frozen vegetables. 
10. Use Deli Chicken
Deli chicken offers a fast, easy meal and can be easily found at many grocery stores. Any stores with an open deli are sure to sell low-sodium, natural rotisserie chicken, which offers fantastic nutrients, proteins and vitamins. Be careful when choosing a deli chicken, as some companies may inject extra sodium, additives and sugar to keep the meat fresh for longer. As long as the chicken contains low amounts of salt and is USDA-certified, it's an excellent quick and healthy option. 
11. Buy Pre-Boiled Eggs
Eggs are filled with protein and offer many health benefits. While frying up some eggs or boiling eggs might not take very long, there are days when you might not have the energy to cook. In preparation for these instances, consider picking up some pre-boiled eggs at the grocery store. Even though they are pre-packaged, they are still filled with the same nutrients and proteins as before, including vitamin A, folate, calcium and zinc. Boiled eggs can be placed on salad, eaten with a breakfast bowl or enjoyed on their own. 
12. Dress up Salads
You can take salads the extra mile by adding fun ingredients, but all of the chopping and preparing takes time. When dressing up salads, consider pre-cut vegetables, minced onions or canned beans like kidney, green, garbanzo and cannellini beans. You can also add some pre-cut avocados or pre-cooked eggs. Some delicious picked toppings you can find include artichokes, banana peppers, pickles and roasted red peppers.
13. Batch Prepare Meals
Meal prepping allows you to create a large number of meals at one time. This way, you'll have meals and snacks at the ready all week. You can create several sandwiches or prepare bags of snack mixes. You can also cook multiple servings of a single dish in a crock pot, such as shredded chicken for sandwiches or rice that you can pair with vegetables, potatoes or beef. If you have energy and time for a few hours during the weekend, you can have all your meals prepped and ready for the coming week. 
14. Have the Right Tools
Having the right kitchen tools allows you to prepare food with less effort. If you don't feel like chopping up food or waiting for dinner to cook in the oven, consider investing in kitchen appliances like an air fryer, blender, instant pot or crock pot. 
Air fryers can quickly heat up frozen vegetables and defrost frozen meals for fast eating. A blender allows you to make breakfast smoothies, quick soups or homemade dressings you can put on sandwiches and salads. Crock pots and instant pots are among the most versatile cooking instruments compared to other kitchen appliances. They allow you to cook huge batches of rice, beans, chicken or beef, as well as stews, soups and potatoes, which can be used for multiple meals.
15. Hire a Chef
While this might not be applicable to everyone, hiring a chef can be very helpful for those who have the budget and no time to cook or prepare meals themselves. Consider finding someone in the area who can prepare meals during the day or batch-prepare sandwiches and items you can eat throughout the week. You can easily find professionals on Google, through services like Indeed and LinkedIn, or on Nextdoor and Facebook Marketplace.
Make Eating Healthy Easy With Fresh Meal Plan
Fresh Meal Plan is a meal subscription service that offers tasty dishes packed with high-quality ingredients. Packaged in environmentally friendly packaging, our services provide hundreds of healthy meals that are ready in three minutes or less. 
You can sign up for our subscription or place a one-time order using our A La Carte service. Just fill out contact information, submit your first order and have your easy, healthy meals sent to you on the delivery date you select. With our customizable platform, you can update or change your meal preferences anytime. Using your personal account portal, you'll be able to find a healthy meal plan that fits your lifestyle and allows for easy meal preparation.
Contact us today to speak to a representative or explore our services online.